ABOUT US
What's New at CakeSuite
CakeSuite Wins Best of Westport 2014 in the Wedding Cakes Category
We're on a roll, as readers ofWestport Magazine have once again (!) voted CakeSuite as the best place to get a wedding cake in the Westport area.

Thank you to everyone who voted for us. We're honored and grateful for your support!
See us in Serendpity Magazine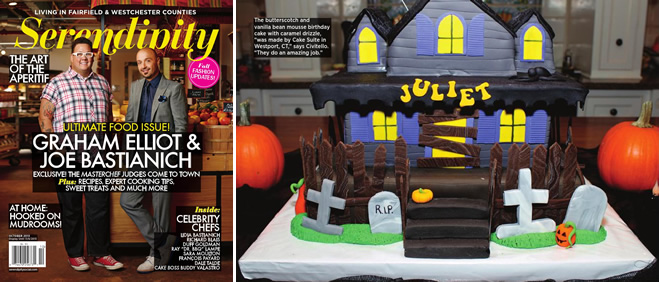 Pick up the October 2013 Serendipity Magazine and you'll find this spooooky haunted house cake we created for a "Monster Mash Dance birthday party" in New Canaan.
Join Us at the Greenwich 2013 Wine+Food Festival
| | |
| --- | --- |
| | The Greenwich Food+Wine Festival is coming on October. 4th! Michelle Klem will be giving a cake demonstration with tasting samples on October 4th, and we will be in the VIP tent on October 5th, giving out wonderful samples of cake, and schmoozing with our friends in Greenwich. Please come by and say hello if you decide to come. Last year was a blast! |
CakeSuite Wins Best of Westport 2013 in the Wedding Cakes Category
| | |
| --- | --- |
| | Readers of Westport Magazine have once again voted CakeSuite as the best place to get a wedding cake in the Westport area. |
CakeSuite Gives Back
At CakeSuite we strive to not only make good things, but do good things. Here are a few of the organizations we've dontated to, to help others here in our community and around the world.
CakeSuite Wins First Place in Visions of Gingerbread Competition
CakeSuite won first place (again!) in the Visions of Gingerbread competition at the Stamford Museum and Nature Center. Here is our piece, titled Winter Carnival.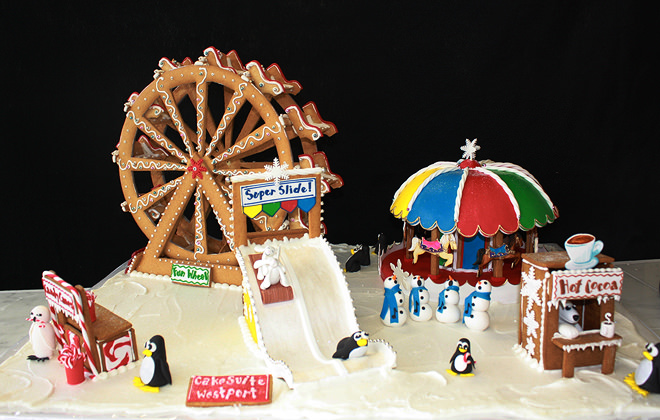 Get a taste of CakeSuite at the Greenwich Food + Wine Festival 2012
Join CakeSuite and more than 90 other food, wine and spirit vendors for a spectacular gourmet event. The events features a Culinary Village (that's where you'll find us), a BBQ Pit Masters' Tent, a Celebrity Chef Demo Tent, a concert stage, book signings and more. Drop by for samples of our pumpkin caramel cinnamon cake and pineapple carrot cake!


October 4 – 6, 2012
Tickets: $95+ and include all food, wine, spirits and music.
Full event information
Join us at Slice of Saugatuck 2012
We'll be at the Slice of Saugatuck Festival along with dozens of other local purveyors of food, wine and good times. From the event web site:

Come and see what's happening in Saugatuck - it's a renaissance of food, drink and activity.

After a highly successful event last year, this year on Saturday September 15, 2012 from noon - 3pm over three dozen of Saugatuck's finest restaurants, shops and galleries will be opening their doors and inviting the community to come and sample their offerings. Walk the streets of Saugatuck Center and taste your way from restaurant to restaurant, to liquor store, to retail merchant and back.

Walk the Slice!!!


Saturday September 15, 2012 - Noon - 3pm
Tickets are $5 to benefit the Gillespie Center's Food Pantry
Full event information
CakeSuite earns a Brides Connecticut magazine Editor's Choice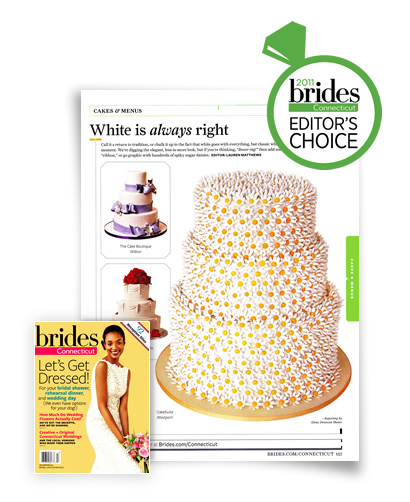 We are thrilled to announce that Brides Connecticut magazine has featured our daisy-covered wedding cake the Fall / Winter 2011 issue!
Imagining a Royal Wedding Cake
Brides Magazine asked us to dream up a cake design for the royal wedding of Prince William and Kate Middleton.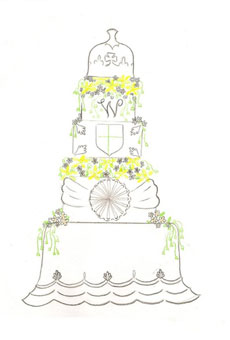 This sketch features Prince William's coat of arms and royal monogram, and a rosette inspired by Westminster Abbey's rose window.
CakeSuite Wins 1st Place in Visions of Gingerbread Exhibit
CakeSuite's Michelle Ashear Klem took first place in the Stamford Museum's Visions of Gingerbread exhibit.
"Sublime and unforgettable"
Westport Patch journalist Michelle Bowers finds cupcake heaven at our new shop...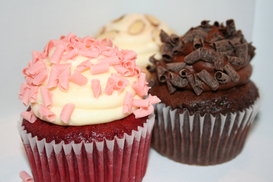 "There were just three cupcake varieties available the day I finally got my hands on some — although they plan to offer more flavors as business picks up. All were by far the best in their class."
"The golden butter cake was topped with a generous piping of an almond buttercream... the pairing was sublime and unforgettable. "
"CakeSuite's devil's food chocolate was topped with a chocolate frosting that was so thick and rich it was almost solid fudge."

Photo by Michelle Bowers, courtesy Westport Patch
Grand Opening of CakeSuite's New Shop
After months of hard work, we've finally opened our beautiful new shop in Westport, Connecticut, and the response has been fantastic! Our grand opening drew a crowd of friends, locals and the press, and we're off to a great start. Thank you, Westport, for such a warm welcome!
In addition to custom cakes we also have gourmet cookies and other treats, so drop by when you're in the mood for a treat.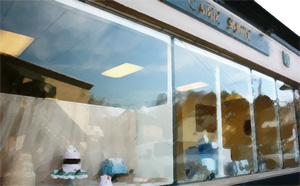 "Arranging a medley of sugar, flour and other scrumptious ingredients, pastry chef Michelle Klem's cakes and cookies are creative masterpieces"

"Everything we tasted was perfectly assembled and as luscious as it was exquisite. Michelle's use of pure and high quality ingredients is evident in the clearly defined flavors."

– ctbbites
A Silver Medal for CakeSuite
This Moroccan-themed cake won a silver medal at the 2006 Oklahoma State Sugar Art show.
A New Honor
This Gingerbread Hot Air Balloon won the "Most Creative" award at the Greenwich, Connecticut Junior League competition and auction.
A Medal for CakeSuite
CakeSuite's Michelle Ashear Klem earned a bronze medal at the prestigious Oklahoma State Sugar Art Show with this exquisite four-tiered wedding cake.
CakeSuite Takes Broadway
CakeSuite created this giant six-foot armadillo cake for the premiere party of the new Broadway production of Steel Magnolias. It was a huge hit at the star-studded event, held at New York's Tavern on The Green restaurant. Playbill Magazine quotes lead producer Roy Gabay: "I have no idea how they made the gray icing, but it came out very good."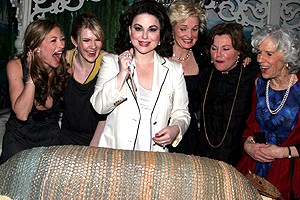 Clockwise from top left: Rebecca Gayheart, Lily Rabe, Delta Burke, Christine Ebersole, Marsha Mason, Frances Sternhagen, and one HUGE cake!