ABOUT US
People
MICHELLE ASHEAR KLEM
Pastry Chef / Owner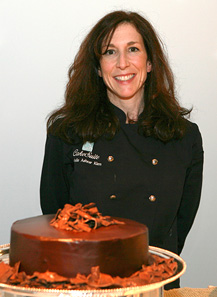 Michelle Ashear Klem has over thirty years of experience in pastry arts, working in world-renowned kitchens and building a reputation for artistry that pleases the palate as well as the eye.
Michelle holds a degree in Pastry Arts from the acclaimed College of Culinary Arts at Johnson and Wales University. She also earned a degree in Art History from New York University, and studied painting in Florence, Italy.
Michelle developed her skills in the pastry shops of major New York area hotels and restaurants, including The Plaza Hotel, The Rainbow Room, The New York Hilton and Towers, and Medici 56 in Manhattan.
More recently, Michelle spent 5 years as the head of the pastry department at Incredible Edibles catering in Stamford, Connecticut.
As the mother of a 15-year-old child, Aaron, Michelle knows how to create fun, cutting edge parties for kids. Aaron sometimes assists during birthday parties as well.
In 2001 Michelle created CakeSuite, and today devotes her talent to creating extraordinary cakes for discerning clients.